[GAMOPAT ACADEMY] LA GAMME D'ORDINATEURS ATARI 8 BITS
Fort du succès de ses bornes d'arcade et de sa console de jeu Atari 2600, Atari décide de s'attaquer en 1979 au marché des ordinateurs pour tenter de concurrencer les machines en place : l'Apple 2, le TRS-80 et le PET de Commodore.


1979

L'Atari 400

L'ordinateur est équipé d'un processeur MOS Technology 6502, de coprocesseurs graphiques ANTIC et GTIA, d'un coprocesseur POKEY pour le son et les entrées/sorties. La RAM est de 4Ko et le basic est sur cartouche. L'ordinateur devait au départ offrir un Microsoft Basic, mais ne tenant pas sur une cartouche de 8Ko, Atari dut développer son propre basic. A noter que le clavier à membrane est assez catastrophique !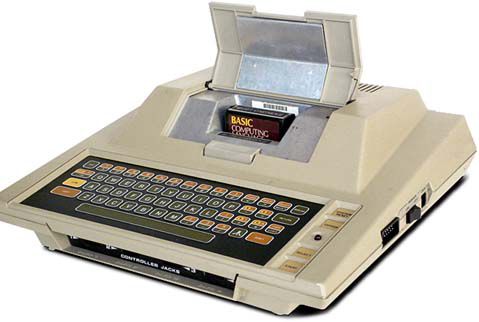 L'Atari 800

Le même avec 8Ko de RAM, un clavier mécanique et 2 ports cartouches (vous voulez ainsi toujours laisser le basic dans la machine). Du fait de la baisse rapide du prix de la RAM le modèle 800 passa rapidement à 48ko.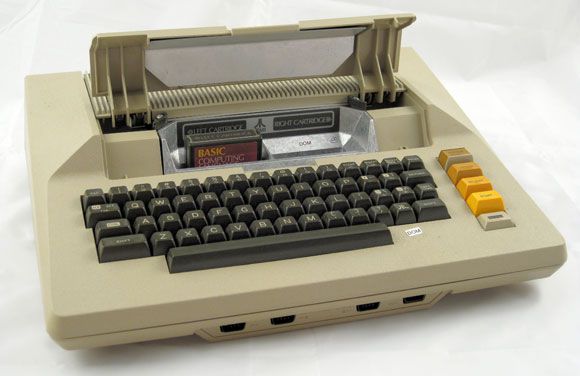 Ces deux machines connurent un bon succès commercial (2 millions de machines vendues).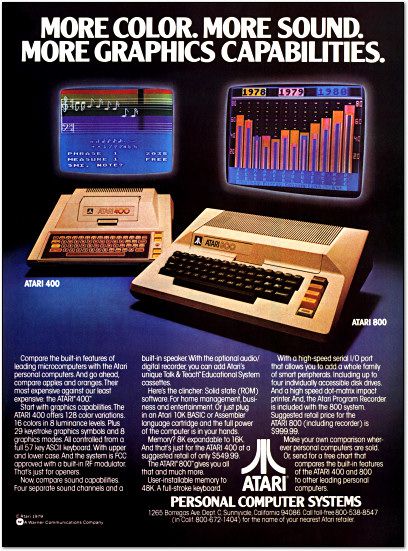 1982

Avec ce modèle la RAM passe à 64Ko et le clavier propose un nouveau design. Mais son gros problème est qu'il est incompatible avec la gamme précédente et qu'il trop cher par rapport à la concurrence qui commence à proposer des ordinateurs à bas prix. Il fera un flop et ne sera jamais importé en Europe.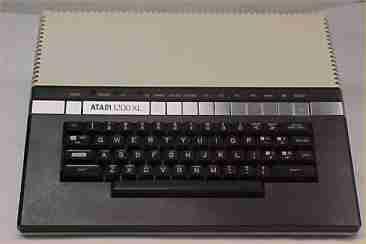 1983

Les temps sont durs pour Atari : crash du jeu vidéo, flop de l'Atari 1200XL. Il faut réagir très vite.
La gamme XL fait son apparition et Atari se lance dans la guerre des prix. Deux nouveaux modèles sont proposés :

- Atari 600XL avec 16Ko de RAM (extensibles à 64Ko grâce au module 1064)
- Atari 800XL avec 64Ko de RAM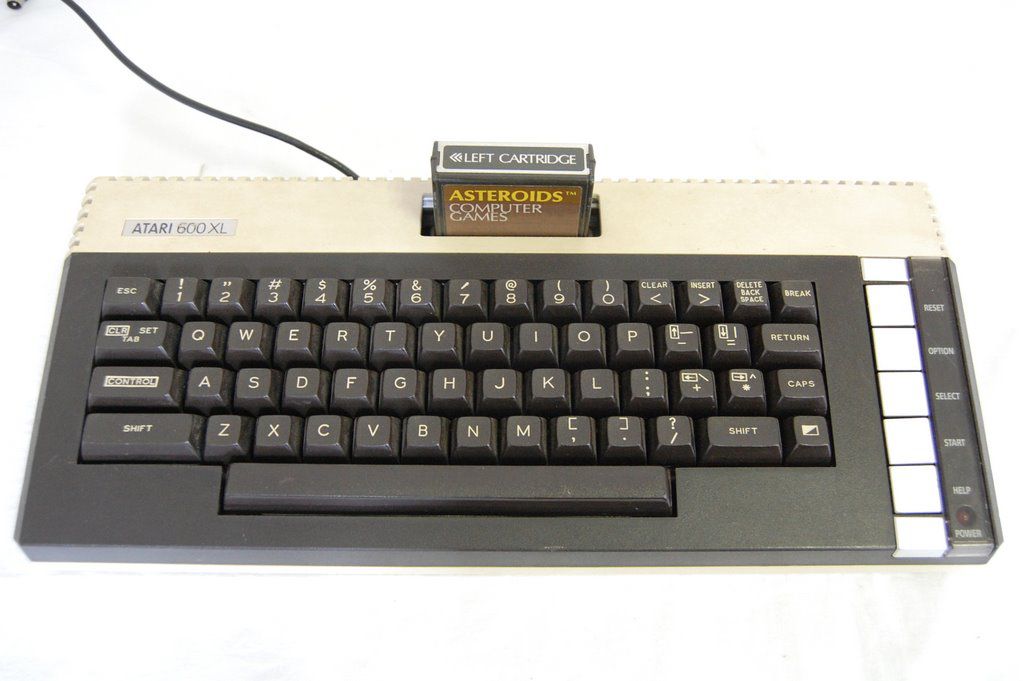 Ils reprennent le look du 1200XL, en plus compact, avec un basic en ROM : les coûts de productions sont plus réduits. Ils sortent cependant un peu tardivement en 1983 alors que le Commodore C64, son concurrent, est déjà bien lancé aux USA. La gamme XL sera toujours en retrait malgré de très bons jeux en cartouche, Commodore a gagné la partie.

Voir le test de l'Atari 800XL : http://www.gamopat.com/article-6066498.html

A noter un accessoire très moderne pour l'époque, la touch tablet, qui permettait de dessiner facilement à l'écran.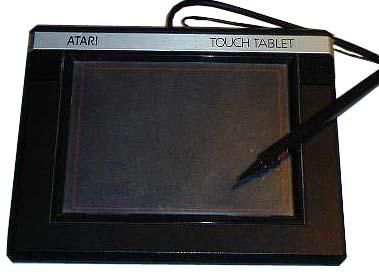 1985

Jack Tramiel (l'ancien PDG de Commodore) débarque chez Atari et lance son Atari ST (16/32 bits) pour concurrencer Apple. Il en profite pour relooker la gamme 8 bits qui n'est pas abandonnée :

- Atari 65XE ( 64Ko)
- Atari 130XE (128Ko)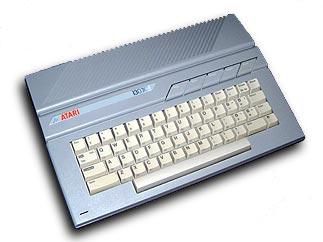 Ces ordinateurs ont toujours les mêmes caractéristiques de base que les ancêtres 400, 800 et XL, mais avec une bien meilleure intégration des composants. Le 130 XE dispose d'un bus d'extension. Pas de succès pour cette gamme qui apporte vraiment peu, ou pas, d'innovation ! Aux USA le marché est dominé par le Commodore 64 et en France par l'Amstrad CPC, et les ordinateurs 16-32 bits pointent le bout de leur carcasse.


1987

Une rareté fait son apparition en Europe de l'Est : l'Atari 800XE. C'est un 130XE avec seulement 64ko de RAM.

Avec la renaissance des consoles de jeux (Nes et Master System) Atari transformera ses ordinateurs 8 bits en console avec le System XE.


Les Prototypes

- Atari 1400XL,
- Atari 1450XLD (avec lecteur de disquettes, modem et synthèse vocale),
- Atari 65XEM (chip sonore 8 canaux...),
- Atari 65XEP (portable).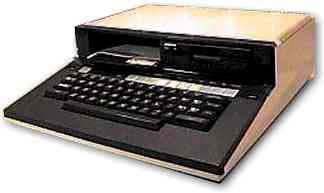 Le 1450XLD, le modèle de luxe de la gamme ! Introuvable !



Liste des cartouches de la gamme Atari 400/800/XL/XE :

3-D Tic-Tac-Toe
80-Column Dumb Terminal Emulator Ace
Abracadabra TG Software
Ace of Aces Atari
Action O.S.S.
Adventure Creator Spinnaker
Airball Atari
Alf in the Color Caves Spinnaker
Alien Ambush Dana
Alien Garden Epyx
Alpha Shield Sirius
Alphabet Zoo Spinnaker
Ant Eater Romox
AProm Walling Company
AProm XL Walling Company
Archon Atari / Electronic Arts
Assembler Editor Computing Language Atari
Astrochase Parker Brothers / First Star
Asteroids Atari
Assembler Editor Atari
Astro Grover (Sesame Street) CBS Software
Atari Artist Atari
AtariLab Light Module Atari
AtariLab Temperature Module Atari
Atext-1 Word processor Elcomp
Atmas Macro Assembler Elcomp
Atmona-1 Machine Language Elcomp
Attack at EP-CYG-4 Romox / Bram
Attack of the Mutant Camels HES
Atlantis Imagic
Atari Lab: Light Modue Atari
Atari LOGO Atari
Atari Music I Atari
Atari Music II Atari
Atari Writer ('AtariTexte' is French Version) Atari
B.C. Quest For Tires Sierra On-Line
Ballblazer Atari / Lucasfilm
Baseball InHome Software
Basketball Atari
Basic Computer Language Atari
Battlezone Atari
Barnyard Blaster Atari
Basic XE O.S.S.
Basic XL O.S.S.
Beamrider Activision
Bear Jam Chalkboard Inc.
Big Bird's Funhouse (Sesame Street) CBS Software
Big bird's Special Delivery (Sesame Street) CBS Software
Blue Max Atari / Synapse
Boot Ease Atari
Boulderdash First Star
Boulders and Bombs CBS Software / K-Byte
Bounty Bob Strikes Back Big 5
Bristles First Star
Buck Roger: Planet of Zoom Sega
Bug Hunt Atari
Bumper Bash Atari
Burn-In Disk Test Atari
Captain Beeble InHome Software
Capture the Flag Sirius
Carnival Massacre Thorn EMI
Castle Hastle Roklan
Caverns of Mars Atari
Centipede Atari
Chess Parker Brothers
Chessmaster 2000 SoftCountry
Chicken Synapse
Choplifter! Atari / Broderbund
Claim Jumper Synapse
Cloudburst Dana / Tensor Technologies
CocoNotes CBS Software
Computer War Thorn EMI
Computer Chess Atari
Congo Bongo Sega
Conquest of the Crown LindaSoft
Cosmic Life Spinnaker
Crime Buster Atari
Crossbow Atari
Crossfire Sierra On-Line
Crystal Castles Atari
Da'Fuzz Roklan
Dance Fantasy Fisher-Price
Dark Chambers Atari
Data Perfect LJK
David's Midnight Magic Atari / Broderbund
Decathlon Activision
Defender Atari
Delta Drawing Learning Program Spinnaker
Deluxe Invaders Roklan
Demo Cartridge Exidy
Demon Attack Imagic
Demonstration Program Cartridge (In-Store) Atari
Desert Falcon Atari
Designer's Pencil Activision
Dig Dug Atari
Diagnostic Cartridge Atari
Diamond GOS Reevesoft
Diamond Mine Roklan
Dimension X Atari
Direct Access Home Banking Citibank
Doc Goodlode's Cavern Gebelli
Donkey Kong Atari
Donkey Kong Jr Atari
Dreadnaught Factor Activision
Drelbs Synapse
Droids TG Software
Ducks Ahoy CBS Software
Eastern Front - 1941 Atari / APX
Easy Scan II Sector One/IC
Edit LJK
Editor Assembler Atari
Educational System Master Cartridge Atari
Embargo Gebelli / Solitaire Group
Ernie's Magic Shapes (Sesame Street) CBS Software
ESP Mindlock BBS Softmark
Espial TigerVision
Europen Countries & Capitals Atari
Expando-Vision Stimultech
Express Orion Micro Systems
E.T. Phone Home Atari
Facemaker Spinnaker
Fantastic Voyage Sirius / 20th Century Fox
Fast Eddie Sirius / 20th Century Fox
Fight Night Atari / Accolade
File Manager Synapse
Final Legacy Atari
Final Orbit Sirius
Firebird Gebelli
Flapper Romox
Flight Simulator II Microsoft
Flip & Flop First Star
Foot Fight Atari
Football Atari
Fort Apocalypse Synapse
Fortune Hunter Romox
Fraction Fever Spinnaker
Frantic Freddie SpectraVideo
Frogger Parker Brothers
Frogger II: Threeedeep Parker Brothers
Fun with Art Epyx
Galaxian Atari
Gateway to Apshai Epyx
GATO Atari / Spectrum Holobyte
GhostCART II Island Software
Gorf Roklan
Gridrunner HES
Gyruss Parker Brothers
Hardball Atari / Accolade
Halftime Battlin' Bands CBS Software
Hamsoft / Amtor Kantronics
H.E.R.O. Activision
Hypnotic Land LindaSoft
Impersonator Back-Up Cart Alpha Systems
Into The Eagle's Nest Atari / Pandora
Joust Atari
Journey To The Planets Roklan
Jukebox Spinnaker
Jumbo Jet Pilot Atari
Jumpman Junior Epyx
Jungle Hunt Atari
James Bond 007 Parker Brothers
Jawbreaker Sierra On-Line
Jawbreaker II Sierra On-Line
Jumbo Jet Pilot Thorn EMI
Kaboom! Activision
Karateka Atari / Broderbund
Keystone Kapers Activision
K-Star Patrol CBS Software / K-Byte
Kickback Thorn EMI
Kids on Keys Spinnaker
Kindercomp Spinnaker
Kiss Eastern House
Koala Painter Koala
K-razy Antiks K-Byte
K-razy Kritters K-Byte
K-razy Shoot Out K-Byte
Learning Phone Atari / Plato
Learning with Leeper Sierra On-Line
Leo's 'Lectric Paintbrush Chalkboard Inc.
Letter-Go-Round (Sesame Street) CBS Software
Letter Perfect LJK
Letter Wizard Datasoft
Lifespan Roklan
Linking Logic Fisher-Price
Lode Runner Atari / Broderbund
Logic Levels Fisher-Price
Logic Master Chalkboard Inc.
Mac / 65 O.S.S.
Magic Dump Geminisoft
Magic Dump II Geminisoft
Major League Hockey Thorn EMI
Mario Brothers Atari
MasterType Scarborough
Math Encounter HSU Software
Math Maze Atari
Math Mileage CBS Software
Math Mileage Atari
Math Works: Addition Concepts for Darren
Math Works: Basic Subtraction Concepts for Darren
MatterHorn TigerVision
Megamania Activision
Memory Manor Fisher-Price
Microfiler MPP
Microsoft Basic II Programming Language Atari / Microsoft
MicroMaster Chalkboard Inc.
MicroMaestro Chalkboard Inc.
Microprinter System MSI
Millipede Atari
Miner 2049er Big 5
Ms. Pac-Man Atari
Missile Command Atari
Monkey Wrench Eastern House
Monkey Wrench II Eastern House
Monster Maze Epyx
Moon Patrol Atari
Mountain King CBS Software / K-Byte
Movie Maker Reston
Movie Musical Madness CBS Software
Mr. Cool Sierra On-Line
Mr. TNT HES
Music Box Atari
Music Composer Atari
My First Alphabet Atari
Necromancer Atari
Night Strike TG Software
Oil's Well Sierra On-Line
One-on-One Basketball Atari / Electronic Arts
Orc Attack Thorn EMI
Ozzy's Orchard TG Software
Pac-Man Atari
Paint 'n Sketch: Level I Tech-Sketch
Paint 'n Sketch: Level II Tech-Sketch
Pastfinder Activision
Peanut Butter Panic CBS Software
Pengo Atari
Pharoah's Curse Synapse
Pilot Computing Language Atari
Pitfall Activision
Pitfall II: Lost Caverns Activision
Pitstop Epyx
Plattermania Epyx
Pole Position Atari
Pool 400 IDSI
Popeye Parker Brothers
Primary Utility Pack Beaumont
Princess and the Frog Romox
Proburner Thompson Electronics
Programming Language PILOT
(also available is an Educators Package) Atari
Protector II Synapse
Q*bert Parker Brothers
Qix Atari
Powerstar Pandora
Princess and Frog Atari
Pronto: The Home Information System Pronto
R-Time 8 Clock ICD
Rally Speedway Adventure International
RealSports Football Atari
Rescue On Fractalus Atari / Lucasarts
River Raid Activision
River Rescue Thorn EMI
Robotron: 2084 Atari
Rock and Rhythm Spinnaker
Rosen's Brigade Gentry
Sammy Lightfoot Sierra On-Line
Sea Chase Romox
Sea Fox Broderbund
Serpentine Broderbund
Shadow World Synapse
Shamus Synapse
Silicon Warrior Epyx
Six Pack I Walling Company
Six Pack II Walling Company
Skywriter Atari / EduFun
Slime Synapse
Smart Terminal MPP
Soccer Thorn EMI
Space Invaders Atari
Space Journey Roklan
Space Shuttle Activision
Spark Bugs Romox
SpartaDOS ICD
Speedway Blast IDSI
Spider City Sirius
Springer TigerVision
Spy Hunter Sega
Squish 'Em Sam Sirius
Star Maze, Scott Foresman's Roklan
Star Raiders Atari
Star Raiders II Atari
Star Trek: Strategic Operations Simulation Sega
Star Wars: Arcade Game Parker Brothers
Star Wars: Death Star Battle Parker Brothers
Starion Romox
Story Machine Spinnaker
Submarine Commander Thorn EMI
Success With Math Atari
Summer Games Atari / Epyx
Super Cart Frontrunner
Super Charger MPP
Super Breakout Atari
Super Cobra Parker Brothers
Super Sketch Graphics Master PPI
Super Zaxxon Sega
SuperSALT Diagnostic (w/ Kit) Atari
Survival of the Fittest IDSI
Survivor Synapse
Synassembler Synapse
Tapper Sega
Telelink I Atari
Telelink II Atari
Tennis Atari
The Pill Atari
The Super Pill Atari
Thunderfox Atari
Time Bound CBS Software
Topper Romox
Track & Field Atari
Trust Rantom
Turmoil Sirius / 20th Century Fox
Typo Romox / TJS Industries
Typo Attack Atari / APX
Up n' Down Sega
Up for Grabs Spinnaker
Video Easel Atari
VisiCalc
Webster Word Game CBS Software
Whiz Kid Romox
Wizard of Wor Roklan
Worm War I Sirius
Writer's Tool O.S.S.
XE Demo Cartridge w/ 4 games Atari
Zaxxon Sega
Zenji Activision
Zeppelin Synapse
Zone Ranger Activision


PUB !