[CONSOLES 32BIT] Le standard 3DO de Julio Iglésias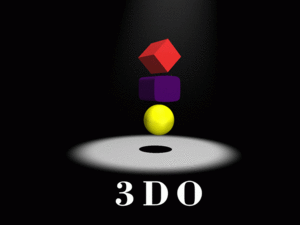 En 1991, Trip Hawkins, patron de Electronic Arts, quitte son poste pourtant confortable pour fonder The 3DO Company (3 Dimensional Objets) et tenter de réaliser son rêve : créer un standard mondial pour le jeu vidéo. Bref, devenir le Bill Gates du loisir vidéoludique !
Le principe : mettre au point une technologie 32bit standard à toutes les consoles et vendre la licence hardware aux fabricants.

Ce sont deux anciens ingénieurs ayant participé à l'élaboration de l'Amiga et de l'Atari Lynx (donc pas des merdes !) qui se chargent de concevoir la technologie extra-terrestre 3DO. Les caractéristiques sont totalement impressionnantes : processeur 32 bits RISC, 2Mo de RAM, 1Mo de mémoire vidéo, deux processeurs graphiques à 25Mhz capables en théorie d'afficher plus de 10 millions de pixels/sec et permettant d'afficher des images 3D texturées. Bordel de sprite ça déchire la slip !

Le support de stockage choisi est le CDROM, c'est la tendance du moment : le multimédia. La console peut lire les CD Audio.

Il y a alors vraiment un gouffre technologique avec la génération en place (Snes, Megadrive, Neo Geo) surtout du fait de l'arrivée soudaine de la 3D texturée. Même le PC semble has-been. Les images de jeux présentées dans les magazines en 1993 nous font tous baver.

Résumons les caractéristiques de base du standard 3DO :
CPU : 32-bits ARM60 RISC 12,5 MHz
Mémoire : 2 Mo de RAM, 1 Mo de VRAM
Mémoire morte : 1 Mo
GPU : 2 GPU cadencés à 25 MHz
Graphisme : 320x240 en 16 millions de couleurs
Son : DSP 16 bits, échantillonnage 44.1 KHz, sortie stéréo, effet Dolby Surround.
CD-ROM : 2X
32 Ko de sauvegarde pour les jeux
Un seul port joystick (mais branchement en cascade possible)
LES CONSOLES

La première 3DO commercialisée sera la Panasonic FZ-1, en avril 1993, suivi de la Goldstar GDO puis d'un modèle par Sanyo. Panasonic sortira par la suite un modèle redesigné, la FZ-10 avec chargement du CD par le dessus. Le problème est que la console est très chère, autour de 3500 francs en moyenne, ce qui est énorme pour l'époque.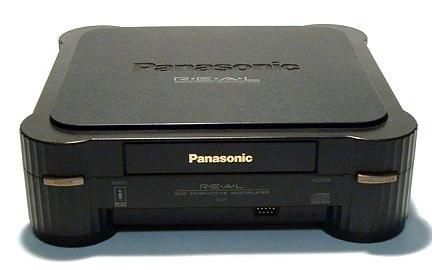 La Panasonic FZ-1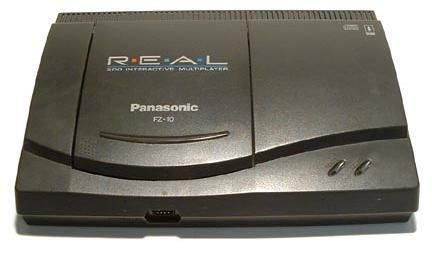 Le second modèle de Panasonic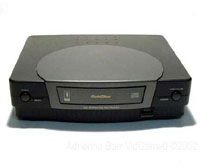 Le Modèle Goldstar


LES MANETTES

les consoles ne sont équipées que d'un seul port manette, mais il est possible d'en brancher en série, jusque 8 (pas très pratique). Une manette standard 3DO est équipée de 3 boutons d'action, 2 boutons sur les tranches, et 2 boutons de fonction.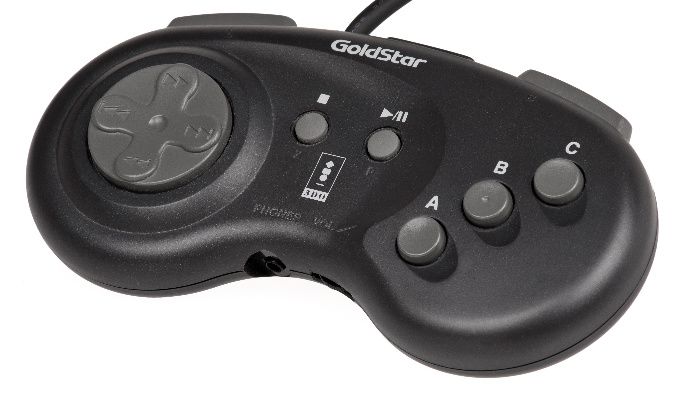 LE PRODUIT DE L'ANNEE QUI FAIT UN FLOP

En 1994 la console est élue "Produit de l'année" par Time Magazine. Cependant les ventes ne décollent pas vraiment malgré quelques jeux assez impressionnants. Fin 1994 le constat d'échec est déjà là : les ventes n'atteignent pas les objectifs espérés. Campagne marketing ratée ? Prix de lancement beaucoup trop élevé ? Ou alors... une certaine Playstation de Sony qui vient de débarquer au Japon ?

Julio Iglésias abandonne alors son rêve et vend ses parts à Matsushita. Un projet 3DO M2 est annoncé, une extension 64 bits pour booster les capacités de la console, mais rien ne se fera. Le système 3DO est abandonné.

Gros "plantage" donc pour le standard 3DO. On peut considérer que l'arrivée d'un Sony aux dents longues dans le monde du jeu vidéo fin 1994 a été fatal à ce standard plein de promesses.

Après l'échec du hardware la société tentera de se refaire une santé comme simple éditeur de jeux. Là aussi sans vraiment réussir à s'imposer. Au cours de l'année 2002, le chiffre d'affaires de 3DO s'est ainsi élevé à 53 millions de dollars pour 47 millions de pertes. Fin mai, le choix de la faillite était décidé, dans l'espoir de trouver un repreneur. Là encore, sans succès. 3DO finira donc ses jours dans une salle de vente aux enchères...


LES JEUX

On découvrira sur cette console des jeux visuellement révolutionnaires : des jeux d'action en 3D texturée stupéfiants pour l'époque ! Une période encore dominée par la Megadrive et la Snes et où la 3D texturée ne fait encore que ses débuts sur PC (avec Doom par exemple). Et même sur PC, sorti des FPS, on ne trouve alors pas beaucoup de jeux d'action-arcade 3D texturé du calibre de ceux proposés sur 3DO.

On découvrira également des jeux très particuliers. Nous sommes en effet en pleine révolution du multimédia avec le CDROM, on pourra ainsi trouver des encyclopédies, des éducatifs... et même des jeux porno ! Là je sens que soudainement vous êtes intéressé par la console ?!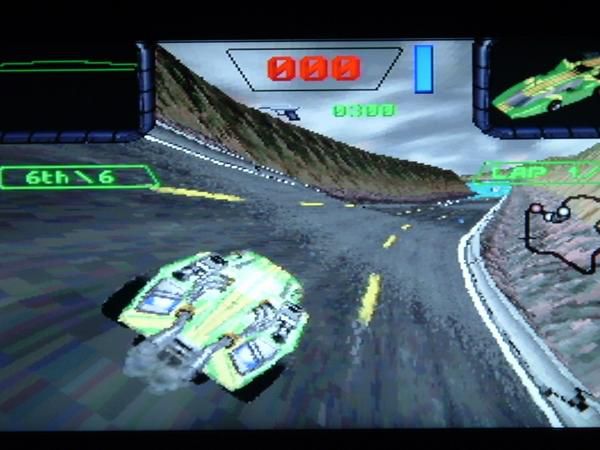 Crash'n Burn > test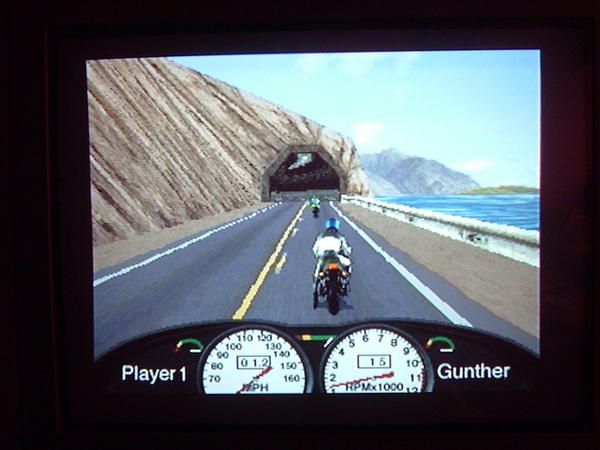 Road Rash > test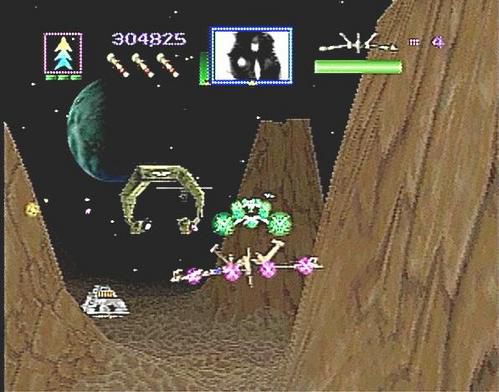 Total Eclipse > test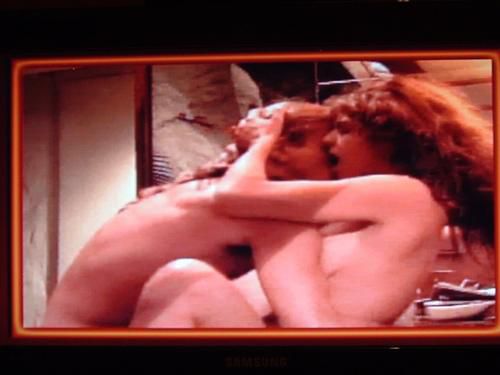 Mind Teazzer, de l'érotique sur 3DO ! > test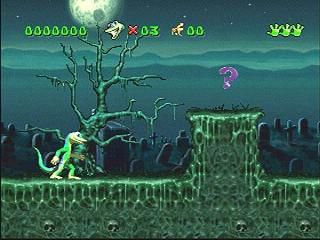 Gex, sûrement le meilleur jeu 2D de la console. Le lézard aurait pu devenir la mascotte de la 3DO.

LISTE DES JEUX

Voici la liste de tous les jeux 3DO répertoriés (merci à Grand Barbare, Gamopat fou fanatique de 3DO, pour cette liste) :
11th Hour
20th Century Video Almanac
3D Atlas
Absolute Zero
AD&D Death Keep
AD&D Slayer
Aesop's Fables - The Ants and the Grasshoppers Vol. 1
Ai Shogi
Air Warrior
Akagi - Topaiten
Akazukin - Grimm Meisaku Gekijou
Akugyaku no Kisetsu
Alone in the Dark
Alone in the Dark 2
Animals
Aqua World
Autobahn Tokyo
AV Girl Mahjong
B.C. Racers
Bakushou!! All Yoshimoto Quiz ou Kettaissen
Baldies
Ballz - The Director's Cut
Battery Navi
Battle Chess
Battle Pinball
Battle Sports
Belzerion
BIOS Fear
Bishojou Senshi SailorMoon S
BladeForce
Blonde Justice
Blood Angel
Blue Forest Monogatari
Bodycon Digital Rave Part 1
Bonogurashi
Braindead 13
Burning Soldier
Bust-A-Move
Cadillacs & Dinosaurs
Cannon Fodder
Captain Quazar
Carrier - Fortress at Sea
Casper
Chiki Chiki Machine Mou Race
Chiki Chiki Machine Mou Race 2 - In Space
Chizu Monogatari Sono 1
Clayfighter II
Confrontation - Wax Water
Corpse Killer
Coven
Cowboy Casino
CPU Bach
Crash and Burn
Crayon-Chan Puzzle Daimaou no Nazo
Creature Shock
Crime Patrol
Cyberdillo
Cyberia
D
D no Shokutaku
D no Shokutaku - Director's Cut
Daedalus Episode 1: Nanpasen no Alien DeathKeep
Daedelus Encounter
Deadly Skies
Deep Blue Fleet
Defcon 5
Demolition Man
Demolition Man
Dennis Miller: It's Geek to Me
Dennis Miller: That's News To Me
Dennou Hyouryuu - Multimedia Cruising
Devil's Course
Digital Dreamware
Dinoblaze
Dinopark Tycoon
Doctor Hanzer
Doom
Doraemon Yuujou Densetsu
Dragon Knight III
Dragon Lore
Dragon Tycoon Edge
Dragon Tycoon Eiji
Dragon's Lair
Dragon's Lair II, The Time Warp
Driving School
Drug Wars
Eigo de Go!
Emit Vol. 1 - Toki no Maigo
EMIT Vol. 2 - Meigake no Tabi
EMIT Vol. 3 - Watashi ni Sayonara o
Endlessly
Escape From Monster Manor (RHHHAAA)
ESPN Baseball - Hitting by Itelliplay
ESPN Baseball: Interactive Hitting
ESPN Beach Volleyball
ESPN Golf Lower Your Score w/ Tom Kite
ESPN Let's Go Skiing
ESPN Let's Play Soccer
ESPN Step Aerobics
F-1 GP
Family Feud
Fan Game - Soft no Omochabako
Fatty Bear no Bikkuri Tanjoubi!
Fatty Bear's Birthday Surprise
Fatty Bear's Draw Show
Fatty Bear's Fun Pack
Fatty Bear's Fun Pak
FIFA International Soccer
Fire Wall
Fireball
Firewolves
Flashback - The Quest for Identity
Flopon the Space Mutant
Flying Nightmares
Foes of Ali
Football: Defensive Backfield
Football: Linemen
Football: Quarterback
Football: Receiver
Fumin's Toy Box
Fun N Games
Furopon World
Gakkou no Koai Usawa - Hanako-chan ga Kite!!
Game Guru
Game no Tatsujin
GEX
Ghost Hunter Series - The Mask of Black Death
Global Defense
Global FH (Field Hunter)
Golden Gate - Treasure by the Bay
Golf Ba Multimedia Shinchaku
Goraku no Dendou
Graduation - Final
Graduation II - Special-Neo Generation
Grandest Fleet
Great Soccer Kid
Gridders
Grimm Meisaku Gekijou: Akazukin
Grimm Meisaku Gekijou: Bremen no Ongakutai
Grimm Meisaku Gekijou: Hansel to Gretel
Guardian War
Gunslinger Collection
Heart of Darkness
Hell - a Cyber Punk Thriller
Hello Kitty Asobi no Mochabako
Hello Kitty Toy Box
High Heat Major League Baseball 2003
Hirata Shogo Interactive Ehon: Aesop Monogatari
Hirata Shogo Interactive Ehon: Cinderella
Hirata Shogo Interactive Ehon: Ookami to Shichi Hiki no Koyagi
Hirata Shogo Interactive Ehon: Shirayuki Hime
Humans
Ice Breaker
Ide Yosuke Meijin no Shinmi Sen Mahjong
Idol Janshi Suchie-Pai Special
Idol Mahjong Final Romance 2: Final Edition
Igo Time Trial: Shikatsu Daihyakka
Igo Time Trial: Thumego 1
Iida Joji Nightmare Interactive: Moon Cradle-Igyou no Hanayome
Immercenary
Immortal Desires
Incredible Machine (TIM)
Insect War
Inspector Danger's Crime Quiz
InteractV Aerobics
Iron Angel of the Apocalypse
Iron Angel of the Apocalypse - The Return
Iron Man
Ishida Masao Ku-Dan no Igo Seiha
ISIS - Earth, Wind, and Fire
It's a Birds Life, Shelly Duvall's
J.League Virtual Stadium
Jammit
Jikki Pachi-Slot Simulation Vol. 1
J-League Virtual Stadium '95
John Madden Football
Johnny Bazakotone
Jurassic Park Interactive
Kakinoki Shogi
Keiba Saishou no Housoku
Kerokerokeroppi and the Origami Experts
Killing Time
Kingdom The Far Reaches
Konpeki no Kantai
Kurokishi no Kamen
Kyuusei Senjutsu Niyoru Heisei Kaiun Koyomi
Last Bounty Hunter
Lawnmower Man
Lemmings
Lemmings Chronicles
Let's Go Skiing, EPSN
Let's Play Beach Volleyball, ESPN
Let's Play Soccer, ESPN
Let's Play Tennis, ESPN
Letter That Overcame Time
Life Stage - Virtual House
Loadstar - Legend of Tully Bodine
Lost Eden
Lost Files of Sherlock Holmes
Lost Vikings
Lost Vikings 2
Love Bites
Lucienne's Quest
Maafi da yo Zenin Shuugou
Macaroni Houren Shou Interactive
Macaroni Interactive
Mad Dog 2 - The Lost Gold
Mad Dog Mac Cree
Magic Carpet
Mahjong Enlightenment Sky - Heaven Sent
Mahjong Kuru Jidai: AV Gal Seifukuhen
Mahjong Kuru Jidai: Ko Gal Hokagohen
Marine Tour
Masters - Harukanaru Augusta 3
Mathemagics - An Interactive Learning Cube
Mazer
McKenzie & Co
Mega Race
Microcosm
Mieko

Mind Teazzer
Mirai Shounen Conan Digital Library
Miyuki Nakajima
Monoshiri Freedom School
Monoshiri Koro Yuugaku
Montana Jones
Moon Cradle
Murphy's T.V.
Myst
N.O.B. Neo Organic Biofarm
Naoko to Hide Bou: Kanji no Tensai 1
Naoko to Hide Bou: Kanji no Tensai 2
Naoko to Hide Bou: Kanji no Tensai 3
Need for Speed
Nemurenu Yoru no Chichinao Hinashi
Neo Organic Bioform
Neuro Dancer
NFL Madden Football
Nice Body - All-Star Suiei Taikai
Night Trap
Nishimura Kyotarou Trouble Mystery: Akugyaku no Kisetsu
Nobunaga no Yabou: Haouden
Nobunaga's Ambition
Nontan no Issho
Nontan no Issho: Hoshino Okurimono
Novastorm
Oceans Below
Offworld Interceptor
Ogura Hyakunin Isshu
Olympic Soccer
Olympic Summer Games '96
Oneesan to Issho! Chakuse Kae Paradise
Oneesan to Issho! Janken Paradise
Operation Jumpgate (add on de shockwave)
Oukoku no Gran Chef
Out of this World (titre europeen Another World)
Out World
Oyaji Hunter Mahjong
Paddock Note '95
Pala Rancho
Panasonic Demonstration CD
Panzer General
Pataank
Pebble Beach Golf
Pebble Beach no Hotou
Penthouse Interactive Virtual Photo Shoot Vol. 1 (Not gonna ask...)
Peperon Mura no Shiki
Perfect General
Perfect World
Peter Frankel: Puzzle no Tou
Peter Frankle - Tower of Challenge
PGA Golf Masters
PGA Tour Golf 96
PGA VR Golf
Pharaoh no Fuuin
Phoenix 3
Plumbers Don't Wear Ties
PO'ED
Policenauts
Policenauts (Mouse Set)
Policenauts Pilot Disc
Powers Kingdom
Powerslide
Pretty Soldier Sailormoon
Primal Rage
Prime Suspect
Princess Maker 2
Pro Stadium
Pro Yakyuu Virtual Stadium
Professional Mahjong Goku
Psychic Detective
Puppet Tale
Putt Putt Goes to The Moon
Putt Putt Goes to The Parade
Putt Putt's Fun Pack
Putt-Putt Joins the Parade
Putt-Putt to Parade ni Okou!
Pyramid Intruder
Quarantine
Quarterback Attack
Real Pinball
Rebel Assault
Return Fire
Return Fire - Maps of Death
Return to Zork
Rise of the Robots
Road Rash
Robinson's Requiem
Romance of The Three Kingdoms IV
Royal Pro Wrestling
Rush'n'Fire Megadas
Sailor Moon S (Bishojou Senshi Sailor Moon S)
Samurai Shodown
Sample This!
Sampler Demo
Sampler Demo 2 (memory test)
Samurai Spirits
San Goku Shi IV
Santa Fe Trail
Scavenger 4
Scorched Earth (Brilliant game)
Scramble Cobra
Seal of the Pharaoh
Seawolf SSN-21
Seimei Handan
Sekura/Fuumin no Mocha Hako
Sensu no Tensai
Sesame Street Numbers
Sewer Shark
Sex
Shadow - War of Succession
Shanghai - Triple Threat
Shanghai: Banri no Choujou
Shock Wave
Shock Wave 2 - Beyond the Gate
Short Warp
Sid Meier's Cpu Bach
Silly Classix! At the Museum
Skateboard Parts
Slam and Jam '95
Slam City
Slope Style - An Interactive Learning Cube
Snow Job
Soccer Kid
Sotsugyou 2: Neo Generation Special
Sotsugyou Final
Space Ace
Space Hulk - Vengeance of the Blood Angels
Space Pirates
Space Shuttle
Star Control II
Star Fighter
Star Trek New Generation
Star Wars Chess
Star Wars: Rebel Assault
StarBlade
StarFighter
Station Invasion
Stellar 7 - Draxon's Revenge
Strahl
Striker - World Cup Special
Super Mahjong P. IV
Super Models Go Wild
Super Real Mahjong P4 + Aishou Shindan
Super Real Mahjong P5
Super Street Fighter 2 Turbo
Super Street Fighter 2 X
Super Wing Commander
Supermodel Gail McKenna
Supreme Warriors
Syndicate
Taiketsu! Rooms
Tanjou: Debut Pure
Tarot Uranai
Terasawa Takeichi no Takeru
Tetsujin
Tetsujin Returns
The Horde
Theatre Wars
Theme Park
Theo The Dinosaur
Tigernaut: Beyond the Stars
Together With Nontan - The Star's Gift
Toki o Koete Tegami
Tokimeki Mahjong Paradise Special
Tom Kite no Korega Golf da
Tom Kite: Consistent Golf
Toon Time - In The Classroom
Total Eclipse
Totsugeki Kikan (Karakuri) Megadasu!!
Tower, The
Tozasarata Tachi
Trip'D
True Golf Classics - Pebble Beach Golf Links
True Golf Classics - Waialae Country Club
True Golf Classics - Wicked 18
Twinkle Knights
Twisted - The Game Show
Uchuu Seibutsu Furopon-Kun
Ultraman Powered
V-Goal Soccer '96
Virtual Cameraman Part 1: Sawada Naomi and Juri Anna
Virtual Cameraman Part 2: Kawai Natsumi and Tachihara Kimi
Virtual Cameraman Part 3 - Sugimoto Yumika
Virtual Cameraman Part 4: Toya Shiori
Virtual Cameraman Part 5: Anzo Ari
Virtual Horror: Juu Warate Tachi
Virtual Puppet Reika
Virtual Vivid Sampler
Virtuoso
Vr Stalker
Wacky Racers
Waialae Country Club
Waialae no Kiseki
Way of the Warrior
Who Shot Johnny Rock?
Wicked 18 Golf
Wing Commander 3 - Heart of The Tiger
Wing Commander IV
Winners Take All
Winning Post
Wolfenstein 3D
Woody Wood Pecker 1
Woody Wood Pecker 2
Woody Wood Pecker 3
World Cup Golf - Hyatt Dorado Beach
World Cup Special
World Cup Super Stadium
Yakyuuken Special
Yamada Kamachi Bijutsukan: Kamachi's Museum
Yamamura Misa Suspense: Kyoto Kurama Sansou Satsujin Jiken
Yu Yu Hakusho
Znadnost, The People's Party
Au final le standard 3DO nous aura bien fait rêver en 1993... Il n'y avait pas photo avec les jeux 3D de la... Snes ! Vous imaginez le gouffre !!!! Et jusqu'en 1994 j'y crois à fond, juste bloqué que j'étais par le prix de la console. Mais tout va très vite, le PC évolue à une vitesse phénoménale (rendant le standard 3DO moins sexy) et l'arrivée de la Playstation au Japon et ses jeux fabuleux (Ridge Racer la claque !) fond que je résiste et attend tranquillement la sortie de la console de Sony en France à la rentrée 1995 au prix incroyable de 2070FF.