[CONSOLES 8 Bit] LA CBS COLECOVISION

La marque COLECO signifie en fait Connecticut Leather Company. Coleco a été le 1er en 1976 à commercialiser une console PONG utilisant des circuits intégrés (circuits analogiques avant). Il y eu 9 modèles différents et Coleco rencontra un vif succès. Mais le concurrence devint vite très difficiles, des dizaines de sociétés produisent des consoles pong par la suite et la concurrence fut féroce. La sortie de l'ATARI VCS 2600 en 1978 et son système à cartouches va tuer les consoles pong.

En juin 1982 Coleco sortira une console de jeu très puissante écrasant l'ATARI 2600 et même l'Intellivision, la CBS Colecovision, "The arcade Quality" disait Coleco en exagérant un peu... La vraie concurrente du moment aux USA sera l'Atari 5200.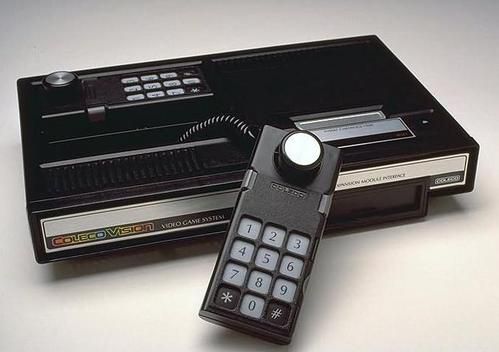 La console est équipée du célèbre processeur Z80A et de capacités graphiques intéressantes pour l'époque (le MSX et la console SEGA SG1000 sont basés sur les mêmes caractéristiques). Elle est vendue d'office avec 2 manettes de jeu. Le joystick est très original, il dispose d'un pavé numérique, d'un bouton de chaque coté, et d'un "stick" très court en forme de disque. Original mais très peu pratique, bonjour les crampes !

Afin d'assurer le succès de sa console Coleco va acheter à Nintendo les droits d'un grand jeu d'arcade de l'époque : Donkey Kong, pour 250 000 $. Le jeu sera vendu avec la console et est une vraie réussite proche du jeu d'arcade. Mario et Donkey Kong apparaissent alors pour la première fois dans les foyers, mais pas sur une console de Nintendo (qui n'a pas encore sorti la Famicom/Nes) mais sur une console américaine.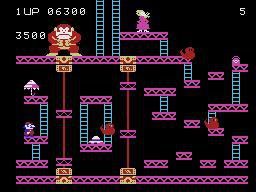 Une adaptation fabuleuse du hit d'arcade !

La Colecovision devient la console de luxe du marché. Le succès est au rendez-vous, 500 000 consoles sont vendues à la fin de l'année aux USA. Elle ne sortira en France qu'à l'été 1983 au prix de 1790f.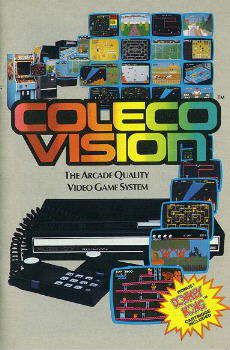 Coleco sortira de plus divers accessoires innovant pour l'époque : un volant avec accélérateur pour le jeu TURBO, des poignées de jeux spéciales (pour le jeu de boxe et de foot américain) et un émulateur ATARI 2600, permettant de continuer à jouer a tous vos jeux ATARI 2600 ! Et l'extension ultime : l'ADAM, transformant votre console en micro-ordinateur.

L'echec de l'ADAM (trop cher), le crack du jeu vidéo fin 1983 suite à l'arrivée en masse des ordinateurs, et l'annonce d'une nouvelle console surpuissante au Japon (la NES de Nintendo) auront raison de la Colecovision. Mi 1984 Coleco stoppe la production. Dommage, 6 millions de consoles en 2 ans, les chiffres n'étaient pas mauvais. Mais tout va très vite à cette époque, nous sommes désormais rentré dans une autre époque : celle des micro-ordinateurs 8 bits.

Elle laissera un goût amer aux gamers français ayant investi dans la console quelque mois avant sa disparition. De même sa puissance n'aura pas été vraiment exploitée avec une durée de vie si courte. Très peu de jeux exploitent son potentiel.


CARACTERISTIQUES TECHNIQUES :

Processeur central : Z80A à 3,58 Mhz
Processeur sonore : Texas Instruments SN76489A
Processeur graphique : Texas Instruments TMS9928A
Résolution graphique : 256x192 en 16 couleurs, 32 sprites
Mémoire : 1ko de Ram et 16 ko de mémoire vidéo
Cartouches de jeux de 8, 16, 24 et 32 ko


LES JEUX

Beaucoup de cartouches de jeux auront le temps de sortir en 2 ans, on estime le catalogue à environ 150 cartouches. Il y a quelques perles (outre Donkey Kong) comme Zaxxon et sa 3D isométrique révolutionnaire, des classiques de chez Parker comme Popeye ou Qbert, de chez Imagic, de chez Atari (Jungle Hunt), de chez SEGA (Buck Rogers), etc.... Des standards comme Decathlon et HERO de Activision.

Avec une durée de vie aussi courte on ne pouvait espérer voir la console être exploitée à fond. Dommage. Même si malgré tout la RAM de 8Ko limitait les possibilités.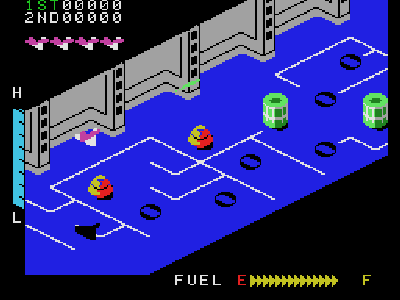 Zaxxon, le fabuleux shoot en 3D isométrique, renversant à l'époque !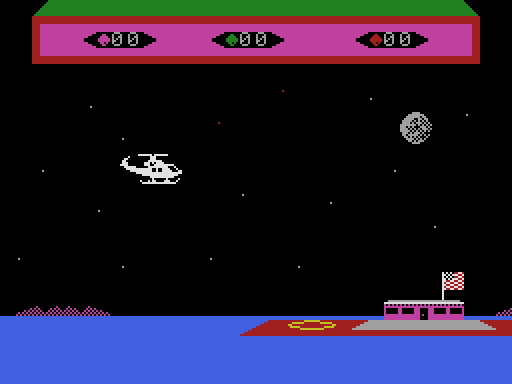 Choplifter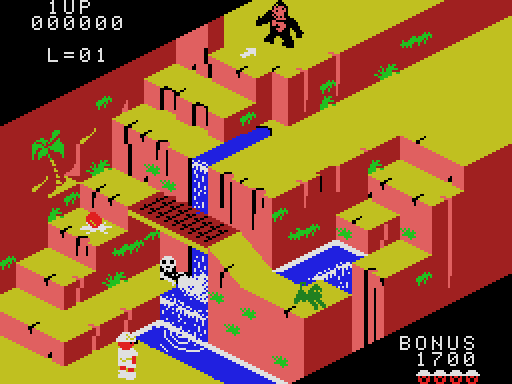 Le superbe Congo-Bongo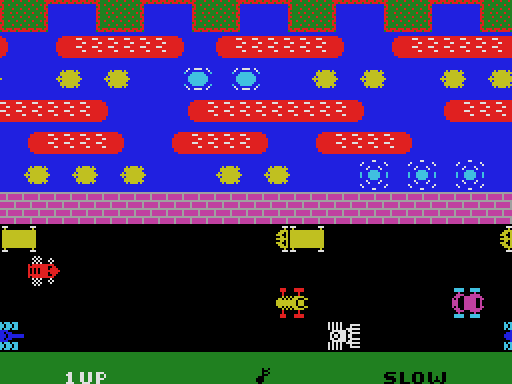 Un classique : Frogger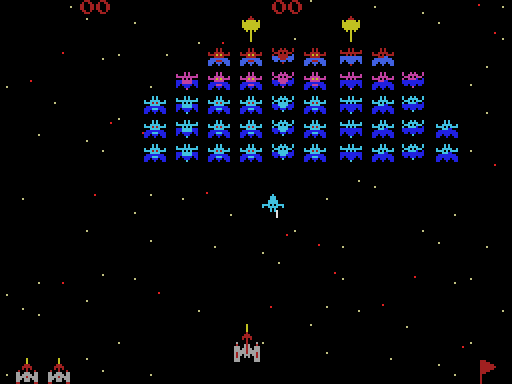 Autre classique : Galaxian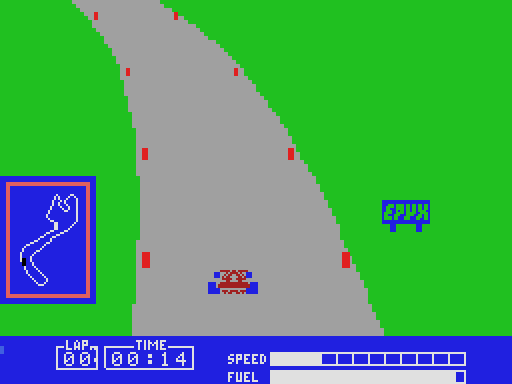 Pitstop, jeu de course


LES MODULES ADDITIONNELS
Voici les 3 modules (Expansion Module) sorti pour la Colecovision :

- L'adaptateur multi-système, pour lire les jeux ATARI 2600, Expansion module 1, qui vaudra à Colecovision un procès contre Atari (que Colecovision remportera). On pouvait même utiliser les manettes Atari !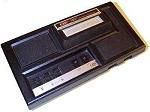 - Le module de pilotage, volant et pédalier "Driver Controller" (pour le jeu Turbo), Expansion module 2, génial pour l'époque,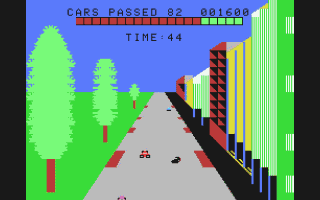 - Le module micro-ordinateur "ADAM", expansion module 3 (voir plus bas).


Ainsi que les 2 controleurs de jeu spéciaux :

- Le "Roller Controller" , un Trackball (vendu avec le jeu Slither)




- Le "Super Action Controller" : 2 grosses manettes (en forme de gant de boxe) vendues avec le jeu Rocky.






LE SUPER GAME MODULE, LE PROJET FOU DE COLECO !

Le Super Game Module (ou expansion module 3) est un prototype d'extension qui devait booster la Colecovision en lui ajoutant 30ko de RAM et en utilisant des microcassettes comme support. Ils pensaient le vendre avec soit Super Donkey Kong, Super Buck Rogers ou Super Gorf, des versions boostées des jeux cartouches déjà existant. Ensuite Coleco envisagea même d'utiliser des disques électroniques comme support : les "Capacitance Electronic Disks", ou CED, une sorte de laser disk bon marché ! Une idée du génial inventeur Raplh Baer ! Et oui on a failli avec des cdroms pour la colecovison ! Incroyable.
Mais finalement Coleco, voyant les micro-ordinateurs prendre le dessus, abandonna ce projet pour lancer leur micro-ordinateur ADAM.


Un prototype du super game module

Ralph Baer, l'inventeur de la console de jeu, au sujet du video-disc de la Colecovision :
"Another invention of mine which I had taken with me to demo at that same meeting in 1982 also resulted in an instant license agreement with Coleco. I had a demo promoting the idea of using a video-disc under control of a ColecoVision game (and presumably ADAM, later on) for interactive game use. To make this scheme economically feasible, I had discussions with Jon Clements who headed the videodisc program at RCA - about building a 5 inch version of their Selectavison 12 inch video disk unit... shades of computer and game systems using shiny, round 5" CD-ROM disks for interactive games... only twenty years too early. Coleco started to negotiate an agreement with RCA and all went well until the ADAM fiasco put a halt to this development effort. That was too bad...and nearly twenty years would go by until fully-digital versions of that system would reappear in the video game world. As for myself, I went on to develop interactive video-disk-based systems at Sanders which were used for military training-and-education purposes with considerable success."



SYSTEMES COMPATIBLES COLECOVISION

Il sortira divers systemes compatibles Colecovision :
- L'Extension Spectravideo SVI-603 pour les ordinateurs Spectravidéo,
- l'ordinateur Hanimex Pencil 2 comptabile Colecovision avec une extension,
- l'ordinateur Hanimex BIT90,
- la Dina 2in1 (petite console avec 2 ports cartouches),
- un clone brésilien sortira également : la Splicevision.

La Dina 2in1, de Telegames USA, est un clone très fiable de la Colecovision, quasiment 100% compatible (le super action controller ne fonctionnant pas dessus).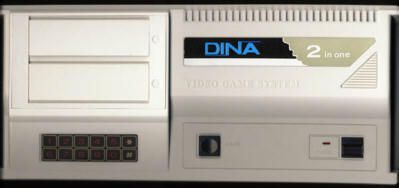 ADAM, l'extension Micro-ordinateur de la CBS COLECOVISION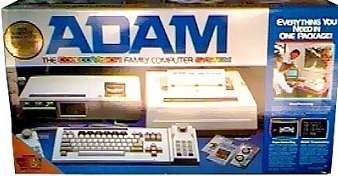 L'ADAM a été lancé par Coleco en 1983 pour concurrencer le Vic 20, le Ti-99 4/A et l'Atari 400, le marché des micro-ordinateurs étant en train d'exploser. Un ensemble composé d'une unité centrale (avec un lecteur de datapack intégré), un clavier et une imprimante. Il y aura aussi un modele autonome disposant d'un port cartouche, mais qui ne sortira jamais en France. Malgré la bonne réputation de la Colecovision, l'Adam ne decollera jamais. La machine arrivera en plus en retard (cela ne pardonnait pas à cette époque de forte concurrence) et se révèle être peu fiable.


LISTE DES PRINCIPAUX JEUX COLECOVISION (avec leur taille en kilo octets)

2010 - The Graphic Action Game (1984) (Coleco) 19 Ko
Adam's Musicbox Demo (1987) (Coleco) 10 Ko
Adventurium3 Demo (2000) (PD) 4 Ko
Air Battle V0.4 by Daniel Bienvenu (July 10) (2000) (PD) 14 Ko
Alcazar - The Forgotten Fortress (1985) (Activision) 13 Ko
Alphabet Zoo (1984) (Spinnaker) 14 Ko
Amazing Bumpman (1986) (Telegames) 8 Ko
Amazing Snake Beta 4-5-X by Serge-Eric Tremblay (2001) (PD) 19 Ko
Antarctic Adventure (1984) (Konami) 12 Ko
Aquattack (1984) (Interphase) 10 Ko
Artillery Duel (1983) (Xonox) 8 Ko
BC's Quest for Tires (1983) (Sierravision) 11 Ko
BC's Quest for Tires II - Grog's Revenge (1984) (32k) 22 Ko
Beamrider (1983) (Activision) 10 Ko
Bejeweled Demo by Daniel Bienvenu (2001) (PD) 7 Ko
Blockade Runner (1984) (Interphase) 11 Ko
Boulder Dash (1984) (Micro Fun) 8 Ko
Brain Strainers (1984) (Carousel) 7 Ko
Breakout by Daniel Bienvenu (Feb 02) (1999) (PD) 8 Ko
Breakout Paddle Demo by Daniel Bienvenu (Feb 12) (2001) (PD) 6 Ko
Buck Rogers - Planet of Zoom (1983) (Sega) 14 Ko
Bump 'N' Jump (1982-84) (Data East) 13 Ko
Burgertime (1982-83) (Mattel) 13 Ko
BUsTin-Out by Daniel Bienvenu (2000) (PD) 83 Ko
Cabbage Patch Kids - Adventure in the Park (1983) pack 25 Ko
Campaign '84 (1983) (Sunrise) 11 Ko
Carnival (1982) 11 Ko
Centipede (1983) (Atarisoft) 9 Ko
Chateau du Dragon, Le by Daniel Bienvenu (2001) (PD) 6 Ko
Choplifter (1982-84) (Broderbund) 12 Ko
Christmas Demo by Daniel Bienvenu (Dec 25) (2001) (PD) 7 Ko
Chuck Norris - Super Kicks (1983) (Xonox) 9 Ko
ColecoVision Monitor Test (1982) 6 Ko
ColecoVision Noise Generator by Marcel de Kogel (1996) (PD) 4 Ko
Congo Bongo (1984) 17 Ko
Cosmic Avenger (1982) (Universal) 9 Ko
Cosmic Crisis (1983) (Bit Corp) 9 Ko
Cosmo Challenge by Marcel de Kogel (1997) (PD) 17 Ko
Cosmo Fighter 2 by Marcel de Kogel (1996-97) (PD) 35 Ko
Dacman (multi version) by Daniel Bienvenu (2000) (PD) 23 Ko
Dam Busters, The (1984) 22 Ko
Dance Fantasy (1984) (Fisher-Price) 5 Ko
Decathlon (1983) (Activision) 13 Ko
Defender (1983) (Atarisoft) 14 Ko
Demon2 Demo by Yannick Proulx (2001) (PD) 2 Ko
Destructor (1984) (Coleco) 21 Ko
Dig Dug (1983) (Atarisoft) (Prototype) 13 Ko
Donkey Kong (1982) 9 Ko
Donkey Kong for Adam (1982) 12 Ko
Donkey Kong Jr (1982-83) 11 Ko
Dr. Seuss's Fix-Up The Mix-Up Puzzler (1984) (Coleco) 8 Ko
DragonFire (1984) (Imagic) 11 Ko
Dukes of Hazzard, The (1984) (Warner Bros) 19 Ko
ELDCDBPAPP (Q-bert Hack) 7 Ko
Escape From The Mind Master (1983) (Starpath) (Prototype) 10 Ko
Evolution (1983) (Sydney) 11 Ko
Facemaker (1983) (Spinnaker) 6 Ko
Fall Guy (1983) (20th Century Fox) 17 Ko
Fathom (1983) (Imagic) 12 Ko
Final Test Cartridge (19xx) 2 Ko
Flipper Slipper (1983) (Spectravideo) 9 Ko
Fortune Builder (1984) (Circuits and Systems) 16 Ko
Fraction Fever (1983) (Spinnaker) 6 Ko
Frantic Freddy (1983) (Spectravideo) 9 Ko
Frenzy! (1982-83) 13 Ko
Frogger (1982-83) (Parker Bros) 8 Ko
Frogger II - ThreeDeep! (1984) (Parker Bros) 11 Ko
Frontline (1983) (Taito) 15 Ko
Galaxian (1983) (Atarisoft) 14 Ko
Gateway to Apshai (1984) (Epyx) 9 Ko
Gorf (1981-83) (Midway) 11 Ko
Gust Buster (1983) (Sunrise) 7 Ko
Gyruss (1984) (Parker Bros) 12 Ko
H.E.R.O. (1984) (Activision) 12 Ko
Happy Halloween by Daniel Bienvenu (2001) (PD) 9 Ko
Heist, The (1983) (Micro Fun) 13 Ko
Illusions (1984) (Nice Ideas) 10 Ko
Its Only Rock 'N' Roll (1984) (Xonox) 10 Ko
James Bond 007 (1984) (Parker Bros) 10 Ko
JBulman Junior (Jumpman Jr. Hack) by Daniel Bienvenu (1997) 10 Ko
Joust (1983) (Atarisoft) (Prototype) 14 Ko
Juke Box (1984) (Spinnaker) 6 Ko
Jumpman Junior (1984) (Epyx) 10 Ko
Jungle Hunt (1983) (Atarisoft) 16 Ko
Ken Uston's Blackjack-Poker (1983) 11 Ko
Kevtris by Kevin Horton (1996) (PD) 10 Ko
Keystone Kapers (1983-84) (Activision) 8 Ko
Kill Barney in Tokyo by Daniel Bienvenu (1997) (PD) 4 Ko
Killer Instinct by Daniel Bienvenu (1997) (PD) 4 Ko
Lady Bug (1982) (Universal) 8 Ko
Learning With Leeper (1983) (Sierravision) 9 Ko
Linking Logic (1984) (Fisher-Price) 7 Ko
Logic Levels (1984) (Fisher-Price) 10 Ko
Looping (1983) (Venture Line) 10 Ko
M.A.S.H. (1983) (20th Century Fox) (Prototype) 10 Ko
Matt Patrol (1984) (Atarisoft) (Prototype) 15 Ko
Memory Manor (1984) (Fisher-Price) 6 Ko
Meteoric Shower (1983) (Bit Corp) 6 Ko
Miner 2049er (1983) (Micro Fun) 14 Ko
Monkey Academy (1984) (Konami) 17 Ko
Montezuma's Revenge (1984) (Parker Bros) 11 Ko
Moonsweeper (1983) (Imagic) 10 Ko
Motocross Racer (1984) (Xonox) 8 Ko
Mountain King (1983-84) (Sunrise) 8 Ko
Mousetrap (1982) (Exidy) 8 Ko
Mr. Do! (1983) (Universal) 13 Ko
Mr. Do's Castle (1983) (Parker Bros) 11 Ko
Ms. Space Fury (Digital Press) (2001) 15 Ko
Music Vol 1 by Daniel Bienvenu (2000) (PD) 3 Ko
Nim by Daniel Bienvenu (Nov 03) (2000) (PD) 5 Ko
Nova Blast (1983) (Imagic) 8 Ko
Oil's Well (1984) (Sierravision) 7 Ko
Omega Race (1981-83) (Midway) 11 Ko
One on One Basketball (1984) (Micro Fun) 9 Ko
Pac-Man (1983) (Atarisoft) (Prototype) 11 Ko
Pepper II (1983) (Exidy) 11 Ko
Pere Noel by Daniel Bienvenu (2000) (PD) 4 Ko
Pitfall II - Lost Caverns (1983-84) (Activision) 11 Ko
Pitfall! (1983) (Activision) 9 Ko
Pitstop (1983) (Epyx) 12 Ko
Popeye (1983) (Parker Bros) 13 Ko
Porky's (1983) (20th Century Fox) (Prototype) 11 Ko
Power Lords - Quest for Volcan (1983) (Prototype) 15 Ko
Purple Dinosaur Massacre by John Dondzila (1996) (PD) 4 Ko
Q-bert (1983) (Parker Bros) 7 Ko
Q-bert II (1984) (Parker Bros) 11 Ko
Quest for Quintana Roo (1983) (Sunrise) 11 Ko
Reversi Demo by Daniel Bienvenu (2001) (PD) 9 Ko
River Raid (1982-84) (Activision) 10 Ko
Robin Hood (1984) (Xonox) 9 Ko
Roc 'N Rope (1983-84) (Konami) 14 Ko
Rock 'N' Bolt (1984) (Telegames) 11 Ko
Rocky Super-Action Boxing (1983) (Coleco) 14 Ko
Rolloverture (1983) (Sunrise) 8 Ko
Sammy Lightfoot (1983) (Sierravision) 11 Ko
Sector Alpha (1983) (Spectravideo) 17 Ko
Sewer Sam (1984) (Interphase) 16 Ko
Sir Lancelot (1983) (Xonox) 8 Ko
Skiing (1986) (Telegames) 6 Ko
Slither (1983) (Century II) 10 Ko
Slurpy (1984) (Xonox) 13 Ko
Smurf - Paint 'n Play Workshop (1983) 13 Ko
Smurf - Rescue in Gargamel's Castle (1982) 11 Ko
Sound FX Vol 1et2 by Daniel Bienvenu (2000) (PD) 5 Ko
Space Fury (1983) (Sega) 11 Ko
Space Invaders Collection Pack Demo (2002) (PD) 6 Ko
Space Invasion by John Dondzila (1998) (PD) 8 Ko
Space Panic (1983) (Universal) 9 Ko
Spectank Demo by Daniel Bienvenu (2000) (PD) 5 Ko
Spectron (1983) (Spectravideo) 9 Ko
Spy Hunter (1983-84) (Midway) 21 Ko
Squish 'Em Sam! (1983) (Interphase) 12 Ko
St-Valentine's Day (2002) (PD) 6 Ko
Star Fortress by John Dondzila (1997) (PD) 9 Ko
Star Trek - Strategic Operations Simulator (1984) (Sega) 14 Ko
Star Wars - The Arcade Game (1984) (Parker Bros) 10 Ko
Steamroller (1984) (Activision) (Prototype) 12 Ko
Strike It! (1983) (Telegames) 6 Ko
Stubby Demo by Yannick Proulx (2001) (PD) 2 Ko
Subroc (1983) (Sega) 15 Ko
Super Action Baseball (1983) (Coleco) 15 Ko
Super Action Controller Test Cartridge (1983) (Nuvatec) 3 Ko
Super Action Football (1984) (Coleco) 39 Ko
Super Action Soccer (1984) (Coleco) 21 Ko
Super Cobra (1983) (Parker Bros) 7 Ko
Super Cross Force (1983) (Spectravideo) 9 Ko
Super DK! (1983) (Prototype) 16 Ko
Super DK! Junior (1983) (Prototype) 13 Ko
Superpong Demo (2000) (PD) 3 Ko
Tank Wars (1983) (Bit Corp) 8 Ko
Tapper (1984) (Midway) 22 Ko
Tarzan (1984) (Coleco) 18 Ko
Telly Turtle (1984) (Carousel) 7 Ko
Tenchi Muyo Demo by Daniel Bienvenu (2000) (PD) 8 Ko
Threshold (1983) (Sierravision) 9 Ko
Tic Tac Toe by Norman Nithman (1996) (PD) 3 Ko
Time Pilot (1983) (Konami) 11 Ko
Tomarc the Barbarian (1984) (Xonox) 11 Ko
Tournament Tennis (1984) (Imagic) 9 Ko
Tunnels & Trolls Demo (1983) (Adam) 10 Ko
Turbo (1982) (Sega) 10 Ko
Tutankham (1983) (Parker Bros) 8 Ko
Up 'N Down (1984) (Sega) 12 Ko
Vampire (Venture Hack) 11 Ko
Venture (1982) (Exidy) 11 Ko
Victory (1983) 12 Ko
Video Hustler (1984) (Konami) (Prototype) 6 Ko
War Games (1983-84) 14 Ko
War Room (1983) (Probe 2000) 18 Ko
Wing War (1983) (Imagic) 11 Ko
Winky Trap by John Dondzila (1997) (PD) 8 Ko
Wizard of Id's Wizmath (1984) (Sierravision) 11 Ko
Word Feud (1984) (Xonox) 5 Ko
Yolk's on You, The (1983) (20th Century Fox) (Prototype) 8 Ko
Zaxxon (1982) (Sega) 14 Ko
Zenji (1984) (Activision) 10 Ko


INTERVIEW DE DEVELOPPEURS HOMEBREW

> Daniel Bienvenu
> Youki, concepteur de Ghost'N Zombies