[CONSOLES 128BIT] La DREAMCAST de SEGA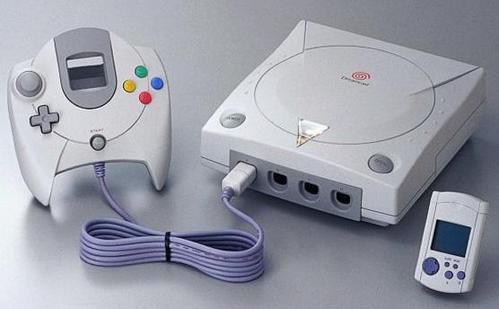 En 1995 la Sega Saturn ne résistera pas longtemps face à la Playstation, à juste titre car la surpuissante console de Sony écrasait la Saturn en terme de 3D. Sega ne tardera pas à plancher sur une nouvelle console afin de revenir dans la course : La Dreamcast. Hélas elle connaitra le même sort que la Saturn et sera "désintégrée" elle aussi par Sony et sa Playstation 2 ! Ou plutôt désintégrée par la rumeur... Sony, ayant annoncé sa consoles 2 ans à l'avance à grand renforts de publicité indirecte, a réussi à faire hésiter les acheteurs potentiels de Dreamcast.

Pour bien comprendre, il faut savoir que la PS2 est alors annoncée révolutionnaire comme la PSX à son époque. un bluff complet de Sony en fait qui met le public dans sa poche avec des démos techniques, des screenshots bidons et des annonces mensongères (10x la puissance d'un PC, des jeux digne d'un film d'animation 3D au cinéma, etc...)


UNE EXCELLENTE CONSOLE

La Dreamcast dispose d'un très correct processeur RISC à 200 Mhz, les capacités graphiques de la console sont excellentes (3 millions de polygones/sec) permettant de réaliser facilement des jeux d'arcade de qualité. Seule la RAM est un peu faible : 16Mo (+8 de vidéo) c'est vraiment juste en 1999.

La console sera en outre la première à proposer un modem intégré et une connection internet pour le jeu on-line, le tout gratuit (et oui !!!), ainsi qu'un clavier optionnel (gadget inutile pour une console). Le public n'était pas encore prêt à cette époque pour le jeu en ligne, de plus les connexions internet était vraiment trop lentes.

La manette est étonnante avec la carte mémoire qui se branche dessus et qui dispose d'un écran LCD intégré où il est possible de stocker des mini-jeux (fonctionnalité qui ne sera quasiment pas exploitée, encore un gadget superflu !). La prise en main est plutôt bonne : un stick directionnel, un pad, 4 boutons, et 2 gâchettes.


UNE STAR EPHEMERE...

La Dreamcast sort en novembre 1998 au Japon, puis en Septembre 1999 aux USA et le mois suivant en Europe. Le "mini-jeu" Chu Chu Rocket sera offert avec la console. Malgré un très bon départ (500 000 consoles en 2 semaines aux USA) et des jeux exceptionnels les ventes s'écroulent rapidement avec l'annonce de la PS2. La fabrication de la console stoppe en mars 2001. Sega décide alors d'abandonner la conception de consoles de jeux pour se consacrer uniquement aux jeux eux-mêmes sur les autres supports... comme la PS2 (arf!).


LE PIRATAGE

En plus de la PS2, l'autre facteur qui fera de la Dreamcast un échec est le piratage ! On trouvera ainsi rapidement la possibilité de copier les jeux et de les faire tourner directement sur la console sans la moindre puce et sans boot-disk. Ceci aura un énorme impact sur les ventes de jeux.


UNE CONSOLE CULTE

La Dreamcast est devenue culte dans le coeur des rétro gamers, pourquoi donc ?

- C'est la toute première 128 bits, et on se souvient toujours des premiers jeux d'une nouvelle génération,
- C'est la dernière console de SEGA, une page qui se tourne
- C'est enfin d'arcade à domicile, pour la première fois une console de salon faisait aussi bien qu'une borne d'arcade récente,
- Et la frustration du hard-core gamer qui a vu mourir sa console pour des raisons marketing.


Caractéristiques principales :

CPU
64-bit Hitachi SH-4 à 200 Mhz
GPU
128-bit NEC PowerVR 2DC 100 Mhz
Resolution: 640 x 480 24bit (16.7 million colors)
3 000 000 polygones/sec
Mémoire
RAM : 16 Mo
Video : 8 Mo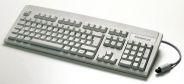 Le clavier optionnel




La fameuse carte memoire en forme de "mini-gameboy"



LES JEUX

D'excellents titres sont sortis sur la Dreamcast. Comment parler de la Dreamcast sans nommer Soul Calibur, fantastique jeu de combat qui prouvait les capacités exceptionnelles de la console. Virtua tennis, le génial jeu de tennis de Sega, fit vendre lui aussi beaucoup de consoles. Jet set Radio, le premier jeu en Cell-Shading... ou la superbe adaptation du jeu d'arcade Crazy Taxi... La fabuleuse série de basket NBA 2K qui a débuté sur Dreamcast... Les jeux de baston 2D comme Capcom vs SNK... J'en passe et des meilleurs : Shenmue, Daytona USA 2001, Rez, etc...

Avec la Dreamcast on peut dire que le jeu vidéo à la maison a franchi un nouveau cap en mettant fin au règne des bornes d'arcade. Les jeux tranchaient ainsi très nettement avec les graphismes brouillons de la Playstation et la mollesse de la N64. Ici tout devient lisse et fluide, avec beaucoup de jeux tournant sans problème en 60 images/seconde.

Et n'oublions que c'est une console Japonaise et que de nombreuses perles jamais sorties en Europe existent. Je citerai par exemple Ikaruga, King of fighters, Samba de Amigo 2000 ou Cosmic Smash.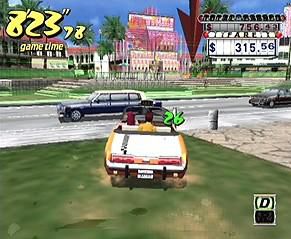 Crazy Taxi, fabuleuse adaptation du jeu d'arcade, rapide, beau et fluide !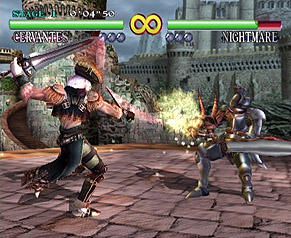 Soul Calibur, LE JEU CULTE de la Dreamcast, une référence absolue !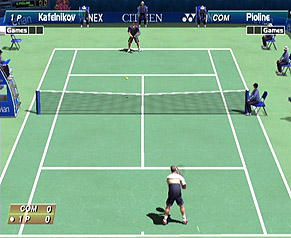 Virtua Tennis, admirez ! Même la version PS2 n'égalera pas la version Dreamcast !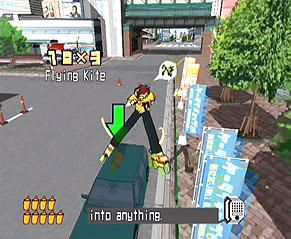 Jet Set Radio, 1er jeu au monde en Cell-Shading ! Etonnant !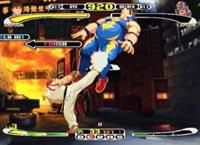 Capcom Vs SNK 2, superbe jeu de combat 2D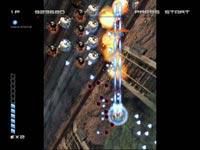 Ikaruga, shoot'emup très original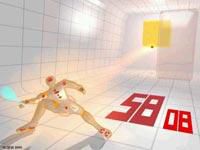 Cosmic Smash, une rareté très cotée !


TOP10 DES JEUX SELON LES PATIENTS DE GAMOPAT
Selon les membres du forum de Gamopat les meilleurs jeux de la console sont au 6 février 2016 :
Shenmue
Soul Calibur
Jet Set Radio
Skies of Arcadia
Marvel Vs Capcom 2
Crazy Taxi
Ikaruga
Street of Fighter III 3rd Strike
Power Stone 2
Toy Commander
et en challengers : Resident Evil Code Veronica, Capcom Vs SNK 2, Nomad Soul, Virtue Tennis et Sturmwind


Liste des principaux jeux Dreamcast :
4 Wheel Thunder
4x4 Evolution
18 Wheeler American Pro Trucker
24 Hour Lemans
102 Dalmations Puppies to the Rescue
90 Minutes
Advanced Daisenryaku (Japan)
Advanced Daisenryaku 2001 (Japan)
Aero Dancing
AeroWings
AeroWings 2 Airstrike
AIR (Japan)
Airforce Delta
Alien Front Online
Alone in the Dark: The New Nightmare
Animastar (Japan)
All Japan Prowrestling 2 (Japan)
Aqua GT
Armada
Army Men: Sarge's Heroes
Atari Anniversary Edition
Baldr Force EXE
Bang! Gunship Elite
Bangai-O
Bass Rush Dream
Battle Beaster (Japan)
Berserk
Black Matrix AD
Blue Stinger
Blue Submarine Number 6
Bomber Hehhe!
Bomberman Online
Border Down (Japan)
Bounty Hunter Sarah (Japan)
Buggy Heat
Bust a Move 4
Buzz Lightyear of Star Command
Caesars Palace 2000
Cafe Little Wish (japan)
Candy Stripe (Japan)
Cannon Spike
Capcom VS SNK
Capcom VS SNK 2:Millionaire Fighting (Japan)
Cardcaptor Sakura: Tomoyo's Video War (Japan)
Carrier
Centipede
Championship Surfer
Chaos Field (Japan)
Charge 'N Blast
Chicken Run
Cho Hatsumei Boy Kanipan (Japan)
ChuChu Rocket!
Cleopatra Fortune
Climax Landers (USA)
Coaster Works
Columns 2
Comic Party (Japan)
Confidential Mission
Conflict Zone - Modern War Strategy
Cool Cool Toon (Japan)
Cosmic Smash (Japan)
Crazy Taxi
Crazy Taxi 2
D 2
Dance Dance Revolution: 2nd Mix
Dance Dance Revolution: Club Mix
Dancing Blade (Japan)
Dave Mirra Freestyle BMX
Daytona USA
Dead or Alive 2
Dead or Alive 2: Limited Edition (Japan)
Death Crimson OX
Deep Fighter
Demolition Racer - No Exit
Densha de go! 2 - Japanese commuter train simulator
Despiria
Dino Crisis
Disney's Dinosaur
Disney's Magical Racing
Donald Duck: Goin' Quackers (Donald Duck Quack Attack)
Draconus - Cult of the Wyrm
Dragons Blood
Dragon Riders: Chronicle of Pern
Dream Studio (Japan)
Ducati World Racing Challenge
Dynamite Cop
Ecco the Dolphin: Defender of the Future
ECW Anarchy Rulz
ECW Hardcore Revolution
Eldorado Gate Volume 2
Elemental Gimmick Gear (E.G.G.)
ESPN International Track & Field
ESPN NBA 2 Night
Evil Dead: Hail to the King
Evil Twin: Cyprien's Chronicles
Evolution: The World of Sacred Device
Evolution 2: Far Off Promise
Exhibition of Speed
Expendable
F1 World Grand Prix
F1 World Grand Prix 2
F355 Challenge Passione Rossa
Fatal Fury - Mark of the Wolves
Feet of Fury
Fighting Force 2
Fighting Vipers 2
Fire Prowrestling D (Japan)
Fish Eyes Wild (Japan)
Flag to Flag
Floigan Brothers
Frame Gride
Frogger 2: Swampy's Revenge
Fur Fighters
Ganbare Nippon Olympics 2000 (Japan)
Garou - Mark of the Wolves
Gauntlet Legends
Giant Gram: All Japan Pro Wrestling
Giant Killers
Giga Wing
Giga Wing 2
Godzilla Generations
Godzilla Generations: Maximum Impact (Japan)
Golden Logres Pinball
Golem no Maigo
Grandia 2
Grand Theft Auto 2
The Grinch
Guilty Gear X
GunBird 2
Gundam Battle Online (Japan)
Gundam DX (released only in Japan)
Gundam Blood of Zeon (Japan)
Gundam - Side Story 0079
Half-Life (jamais sorti officiellement)
Headhunter
Heavy Metal - Geomatrix
Hesei Mah Jong Villa (Japan)
Hello Kitty Garden Panic (Japan)
Hello Kitty: Lovely Fruit Park (Japan)
Hello Kitty Otonaru-mail (Japan)
Hello Kitty Waku Waku Cookies (Japan)
Hidden and Dangerous
The House of the Dead 2
Hoyle Casino
Hundred Swords (Japan)
Hydro Thunder
Ikaruga (Japan)
Illbleed
Incoming
Industrial Spy
Iron Aces
Jeremy McGrath Supercross 2000
Jet Set Radio (Jet Grind Radio aux USA)
Jimmy White's Cueball
JoJo's Bizarre Adventure
July (Japan)
Kanon (Japan)
Kao the Kangeroo
Kimi ga Nozomu Eien (Japan)
The King of Fighters: Evolution
King of Fighters - Dream Match '99
King of Fighters - 2000 (Japan)
King of Fighters - 2001 (Japan)
King of Fighters - 2002 (Japan)
KISS Psycho Circus
Last Blade 2
Legacy of Kain: Soul Reaver
Legend of the Blade Masters
Looney Tunes - Space Race
Macross M3 (Japan)
MagForce Racing
Maken-X
Maqiupai
Marionette Company (Japan)
Marionette Company 2 Chu! (Japan)
Marionette Handler (Japan)
Marionette Handler 2 (Japan)
Mars Matrix
Marvel VS Capcom
Marvel VS Capcom 2
Mat Hoffman's Pro BMX
Max Steel
Maximum Pool
MDK2
Metropolis Street Racer
Midway's Greatest Arcade Hits Vol 1
Midway's Greatest Arcade Hits Vol 2
Moho
Monaco Grand Prix
Mortal Kombat Gold
Mr. Driller
Ms. Pacman Maze Madness
MTV Sports: Skateboarding Feat. Andy MacDonald
Musapey's Choco Marker (Japan)
My Tennis Life
Namco Museum
Napple Tale (released only in Japan)
NBA 2K
NBA 2K1
NBA 2K2
NBA Hoopz
NBA Showtime NBA on NBC
NCAA College Football 2K2
Neon Genesis Evangelion: Progect E (Japan)
Next Tetris - Online Edition
NFL 2K
NFL 2K 1
NFL 2K 2
NFL Blitz 2000
NFL Blitz 2001
NFL Quarterback Club 2000
NFL Quarterback Club 2001
NHL 2K
NHL 2K1
NHL 2K2
Nightmare Creatures II
Omikron - The Nomad Soul
Ooga Booga
Outtrigger
PBA Bowling 2001
Penpen Triicelon
Phantasy Star Online
Phantasy Star Online Version 2
Planet Ring
Plasma Sword
POD SpeedZone
POD 2
Power Stone
Power Stone 2
Prince of Persia - Arabian Nights
Princess Holiday (Japan)
Pro Pinball Trilogy
Pro Yakyu Team De Asobou! (Japan)
Project Justice: Rival Schools 2
Propeller Arena (jamais sorti officiellement)
Psychic Force 2012
Psyvariar 2 (Japan)
Puyo Puyon (Japan)
Puyo Puyo 4
Puyo Puyo Fever (Japan)
Puzzle Bobble
Q*bert
Quake (unofficial)
Quake II (unofficial)
Quake III Arena
Radilgy
Railroad Tycoon 2
Rainbow Cotton (Japan)
Rayman 2
Razor Freestyle Scooter
Ready 2 Rumble Boxing
Ready 2 Rumble Boxing - Round 2
Real Border Down
Record of Lodoss War - The Advent of Kardiss
Red Dog: Superior Firepower
Reel Fishing Wild
Ren'ai CHU! Happy Perfect (Japan)
Rent a Hero No. 1 (Japan)
Resident Evil 2
Resident Evil 3: Nemesis
Resident Evil Code: Veronica
Re-Volt
REZ
Ring - Terror's Realm
Rippin' Riders
Roadsters
Rune Caster (Japan)
Rune Jade (Japan)
Sakura Wars (Sakura Taisen)
Sakura Wars 2 ~You Shall Not Die~
Sakura Wars 3 ~Is Paris Burning?~
Sakura Wars 4 ~Fall in Love, Maidens~
Samba de Amigo
Samba de Amigo Ver. 2000 (Japan)
San Francisco Rush 2049
Seaman
Search The Treasure (Japan)
Sega Bass Fishing
Sega Bass Fishing 2
Sega Extreme Sports
Segagaga (Aka. セガガガ) - Japan: HDR-0171
Sega GT
Sega Marine Fishing
Sega Marine Fishing 2
Sega Rally Championship 2
Sega Smash Pack Volume 1 (US)
Sega Swirl
Sega Worldwide Soccer 2000
Seventh Cross: Evolution
Shadowman
Shenmue
Shenmue 2
Shikigami No Shiro II (Japan)
Silent Scope
Silver
Skies of Arcadia
Slave Zero
Sno-Cross Championship Racing
Snow (Japan)
Snow Surfers
Soldier of Fortune
Sonic Adventure
Sonic Adventure 2
Sonic Shuffle
Soul Calibur
Soul Fighter
South Park - Chef's Luv Shack
South Park Rally
Space Channel 5
Space Channel 5 Part 2 (Japan)
Spawn: In the Demon's Hand
Spec Ops 2 - Omega Squad
Speed Devils
Speed Devils Online Racing
Spider-Man
Spirit of Speed 1937
Sports Jam
Star Gladiator 2
Star Wars: Demolition
Star Wars Episode I: Jedi Power Battles
Star Wars: Episode I Racer
Starlancer
Street Fighter Alpha 3
Street Fighter III: Double Impact ("New Generation" au Japon)
Street Fighter III: Third Strike
Striker Pro 2000
Stunt GP
Stupid Invaders
Super Boom Tread Troopers
Super Euro Soccer (Japan)
Super Magnetic Neo
Super Producers (Japan)
Super Puzzle Fighter 2 (Japan)
Super Robot Wars Alpha for Dreamcast (Japan)
Super Runabout: San Francisco Edition
Super Streetfighter II X (Japan)
Surf Rocket Racers
Suzuki Alstare Extreme Racing
Sword of the Berserk: Guts' Rage
Sydney 2000
Taxi 2: Le Jeu
Tech Romancer
Tee Off
Test Drive 6
Test Drive LeMans
Test Drive V Rally
Tetris 4D
Time Stalkers
TNN Motorsports HardCore Heat
Tokyo Bus Guide (Japan)
Tokyo Highway Challenge
Tokyo Highway Challenge 2
Tokyo Xtreme Racer
Tokyo Xtreme Racer: 2
Tomb Raider Chronicles
Tomb Raider: The Last Revelation
Tom Clancy's Rainbow Six
Tom Clancy's Rainbow Six: Rogue Spear
Tony Hawk's Pro Skater
Tony Hawk's Pro Skater 2
Toy Commander
Toy Racer
Toy Story 2 - Buzz Lightyear to the Rescue!
TrickStyle
Trizeal (Japan)
Tsuki wa Higashi ni, Hi wa Nishi ni -Operation Sanctuary- (Japan)
Twinkle Star Sprites (Japan)
Typing of the Dead
Ultimate Fighting Championship
Under Defeat
Unreal Tournament
Urban Chaos
Vanishing Point
Vampire Chronicles for Matching Service (Japan)
Vigilante 8: Second Offense
Virtua Athlete 2000
Virtua Cop 2 (Japan & US)
Virtua Fighter 3TB
Virtua Striker 2
Virtua Tennis
Virtua Tennis 2 (Sega Sports Tennis 2K2 aux USA)
Virtual On - Oratorio Tangram (Japan & US)
Wacky Races
Walt Disney World Quest: Magical Racing Tour
Welcome to Pia Carrot series (Japan)
Welcome to Pia Carrot 2
Welcome to Pia Carrot 2.5
Welcome to Pia Carrot 3
Wetrix Plus
Who Wants To Be A Millionaire
Who Wants To Beat Up A Millionaire
Wild Metal
Wind 〜a breath of heart〜 (Japan)
World Neverland Plus 2
World Series Baseball 2K1
World Series Baseball 2K2
Worms Armageddon
Worms World Party
WWF Attitude
WWF Royal Rumble
Xtreme Sports
Yu Suzuki Game Works Vol. 1 (released only in Japan)
Zero Gunner 2 (released only in Japan)
Zombie Revenge
Zusar Vusar (Japan)

Pour les fans du genre voici le DETAIL DES JEUX DE SHOOTS (par notre spécialiste Zadig) :
1999 : Millenium soldier expandable (shoot pedestre vertical) pal-jap
2000 : Bangai-o (multidirectionnel) pal-jap
2000 : Giga wings (vertical) pal-jap
2000 : Gunbird 2 (vertical) pal-jap
2000 : Cannon spike (shoot pedestre multidirectionnel) pal-jap
2000 : Mars Matrix (vertical) exclusivement jap
2001 : Giga Wing 2 (vertical) exclusivement jap
2001 : Zero gunner 2 (multidirectionnel) exclusivement jap
2002 : Ikaruga (vertical "chain-puzzle shooting") exclusivement jap
2003 : Border Down (horizontal ) exclusivement jap
2004 : Shikigami no Shiro 2 (vertical ) exclusivement jap
2004 : Psyvariar 2 (vertical "buzz shooting") exclusivement jap
2004 : Chaos Field (vertical "boss shooting") exclusivement jap
2005 : Trizeal (vertical ) exclusivement jap
2006 : Under Defeat (vertical) exclusivement jap
2006 : Radigly (vertical-cell shading) exclusivement jap
2006 - sortie mi décembre : Last Hope (horizontal) multistandard
Deux autres jeux peuvent s'apparanter à des shoots mais disposent d'un gameplay 3D :
2000 : Rainbow cotton (3D rail shooter) exclusivement jap
2001 : Rez (3D rail shooter - "musical shooting") pal-jap



C'est un commentateur de foot bresilien !!!????